In The Escalator, Lois goes to work and sorts out some of her mother's belongings
Transcript of Lois on her way to work taken from The Escalator
Lois boarded the slow train to the hospital, her charcoal mac over her uniform. Wearing a surgical mask on the journey was a new variant. She had loved taking the train with her father as a child, holding his hand to climb up from the platform. Later, she had been there for him too as far as possible, trying to steady him, her own feet on the ground instead. He always had ideas but he never knew how far to take them. It was hard to say where he had gone astray. Perhaps he had not gone wrong at all. He would never stop thinking. Those long train journeys were always happy. There was a golden chair at the end of one train journey with him. Her dolls would have loved to sit on that chair. Now he was absent, and there was only time to arrange herself carefully in the seat, making sure the uniform was covered.
….
Lois took care of life and death as a matter of course. She had not been involved with the virus especially, but geriatric wards had patients not in the first flush of youth. She liked to have a mug of tea before ward duty, always arriving early and sidestepping the smokers – nurses, visitors and patients – outside the glass hospital doors. Her father had loved such contrasts; boundaries are where things happen, he would say. Patients did not always know that they were dying, another boundary. It was not for her to tell them unless they asked. She never took her job for granted. She respected her patients. Her staff usually followed her lead, holding their hands if their family could not be there, which was often the case now. Alternatively, if they wished to be left alone, they were left alone. Her mother wished to be alone at the moment. Lois was no priest, rabbi, imam or pujari, but she could hold a patient's hand if this was what they wished for.
Transcript of Lois recycling some of her mother's belongings taken from The Escalator
Her mother had only wanted the sea view. The sea view could stay here, Lois thought. The rest of her mother's things – a few clothes, a mug, a radio and the garish lipsticks – she bundled into the car in black bags. She would take most of them to the Birmingham tip where there was one of the best collections of garden gnomes that she had ever seen. The gnomes summed up rather well the heathenism and humour of Birmingham that she loved so much.
….
She carefully swung the shiny black bag into the rusting skip. Both her parents had carried baggage. She had loved them for it but chosen differently. She had lived a good life with Jack, but without the black bags, she liked to think. Callie, as ever, would make her own choices. Lois's mother had insisted on being alone with the sea eventually. Lois had understood her mother's wish. She had phoned her each day but left her to her privacy, no face or lipstick to put on.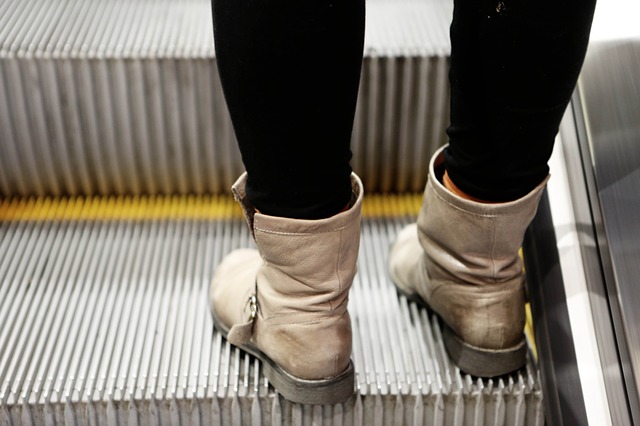 To read, or listen to, this literary novel:
Order a copy of The Escalator in a format of your choice from one of these suppliers.