Professional and Editorial Reviews
Some words from professional reviewers about this literary novel published by Editstream Press on January 1st 2023. Your own review of The Escalator would be welcome too.
Published Professional and Editorial Book Reviews
Four book reviews of The Escalator with links to the published review:
Kirkus Reviews
A British family reflects on their memorable lives, including their tragic losses, in this debut novel.
Lois works as a nurse in Birmingham, treating victims of the Covid-19 pandemic. Her mother, Cas, spends much of her time alone in Devon, staring at the sea. Both women think about William—Lois' father and Cas' husband—who recently died. The nonlinear narrative, however, shines the brightest spotlight on William in the final days before his demise, as he recalls the ups and downs of his family life and career. He and Cas were virtual opposites; he saw the goodness in people, whereas she "hated just about everyone." They loved each other and married despite their differences, or perhaps because of them. But as William sifts through his recollections, it soon becomes apparent that they may be rooted in delusions. He remembers his years as the pope, for instance, and equates the Vatican with a steel factory where he was once employed. He was also friendly with famous American athletes and actors; helped combat AIDS at the World Health Organization; and soared through the skies as a chief test pilot. His memories are fascinating and preposterous, by turns, and it's not always clear what's reality and what may be fantasy. Likewise, his Sunday mornings are with a woman claiming to be his daughter, although he doesn't seem to remember her. As the story continues, the family suffers another loss, and William, before reaching his end, comes to terms with the life he's led.
Budden's generally somber tale can sometimes be hard to follow, although William's narrative transitions smoothly to various points in his life, from its "last stage" to when Lois and her brother, James, were kids. However, there are many nods to real-world events that have the effect of giving readers a clearer sense of the time periods at hand, as when Lois and her friends imitate Michael Jackson's moonwalk and William gets himself up to date on new technology, such as DVD players and LCD screens. William refers to metaphorical escalators throughout the novel, including one that effectively offers a gloss on the novel's entire narrative structure: He remembers stepping onto and off an escalator's stairs, but he doesn't recall traveling the moving steps in between. Throughout, Budden offers vivid prose that sparkles: "Above the sea, volcanic cloud formations appeared, edged in red, as if her short breaths took visual form." Cas' story as well as Lois' feel like mere snippets compared to William's lengthy tale; however, they each aptly reveal different ways of coping: Lois focuses on and immerses herself in family issues, while Cas lives in isolation, and not only because of the ongoing pandemic. Despite its melancholic tone, the story and its characters prove to be endearing. William, for example, is characterized as someone who nurtures a deep desire to help others, and even to save the world, and his wife and daughter are shown to indisputably and unconditionally love their family members.
A poignant and insightful story of life, death, and memory.
Readers' Favorite

Reviewed by K.C. Finn for Readers' Favorite
The Escalator is a work of fiction in the drama and literary subgenres. It is intended for the general reading audience and it was penned by author Andrew Budden. The work sets a tragi-comedic tone from the off as we explore the chaotic life of our central character William, who feels as though he is nearing the end of the great search for meaning in his life. From celebrity connections and dizzying heights down to the bare bones of interpersonal relationships, family, and love, this heartfelt psychological drama discusses the nature of what is truly real and what ought to matter most in our lives.
The character-focused nature of literary fiction often makes it a tricky genre, as you really have to fall for a character in order to be fully invested in their story, yet I challenge anyone not to be intrigued by William. Author Andrew Budden has a clever way of weaving such mystery into the narrative that we are often handling multiple threads of unanswered questions and slowly putting those pieces together as we get to know William and the many fantasies and realities of his life. I also thought that the dialogue and narrative voice were masterfully crafted to give a realistic sense of both William and the ensuing cast that play their parts in his life, bringing pathos, humor, and an emotional core to the piece that resonates with anyone who is at a crossroads in their own life. Overall, I would certainly recommend The Escalator to fans of accomplished literary fiction.
Foreword Clarion Reviews
In Andrew Budden's novel Escalator, a family's period of mourning is complicated by Brexit and a pandemic.
William was a pastor's son. Though he earned a PhD in literature, he worked in a Birmingham steel factory. When he lost that job, he also lost his mind. He began to imagine that he was the pope, among other people. And from his own multiple perspectives, he tried to answer looming conundrums at "the end of the mechanical age." He ended up living on the streets, and then he died.
William's wife, Cas, was a source of support for him and their two children, Lois and James. She worked as an accountant. Following his death, she and Lois are reflective, looking back to consider how William impacted them. Their recollections are chronological and sober.
The chapters rotate between Lois, Cas, and William's threads. Cas leaves Birmingham to grieve. Though she's always loved a confrontation, she learns to let go after years of trying to pin William down. She finds solace by the indifferent sea at Devon. Later, Lois's segments are devoted to impressions of the days surrounding her father's memorial service and her mother's death. Her children and their cousins gather, following Covid-19 protocols; she goes through her parents' belongings.
The women's short, impressionistic vignettes are a source of balance against William's endless monologues. His stream-of-consciousness thoughts flit across the weekend after his job loss, his final days, and everywhere in between. His long-winded, wandering, and associative thoughts have less direction than those of the women in his life. In his mania, he treats as serious what might otherwise be considered mad, upside down, or absurdist. He makes literary references, but they're obscure; he ruminates on pop culture, art, politics, and religion in a far-fetched manner.
As the cast cycles around each other's vantage points, they suggest a new way of seeing all together—one that's both sensible and not. The plot becomes a protracted thought experiment. It taxes, probes, and pushes the boundaries of the genre, using the family's abiding love for each other to suggest a sympathetic outlook on the world at large. Despite his shortcomings, William's wife and daughter accept him; and his love for them endures through his estrangement. Lyrical metaphors and allusions are often present in place of their emotions, though; the pace becomes mired in its thoughtfulness, eliciting an estranged, distant mindset.
The Escalator is a sympathetic novel in which a peculiar family is impacted by the predicaments of their era.
Blueink Review
Blueink Review (Reviewed: June 2022)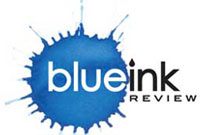 In this tale, members of an English family consider life as it pivots around their mentally unstable husband and father.
The story begins as retired couple William and Cas enjoy a cruise from Genoa to Shanghai. The ocean liner represents a metaphor of sorts for William as he reflects on his recovery from "insanity." Following a cruise stop in Shanghai, the story is told in alternating points of view, primarily William's, but also those of Cas and their adult daughter, Lois.
William's memories shift from the times he was well, moments around the arrival of news "he had been sacked," and years of mental illness, marked by escalators and other symbols or touchstones and his belief that he's the pilot of the Concorde, the pope, and a scriptwriter for a popular soap opera. William and Lois also recall their regular meetings at McDonalds when William believes his daughter to be a stalker.
While Cas, who "hated just about everyone," is markedly different from the kindhearted William, she's "the love of his life." Nonetheless, in his illness Cas seems to have abandoned him. Her recollections come from a room she inhabits alone by the sea.
This is an intelligently written, layered story informed by philosophy, symbolism and
introspection. The characters are authentic, their experiences and emotions likely to resonate with readers. However, the story can be difficult to follow as it slips back and forth in time. For example, Cas mourns William's death, but his recollections follow. Likewise, after the family buries Cas, her viewpoint is very much alive in ensuing paragraphs. Some of the narrative takes place during COVID, but William is stricken by a different virus on the ship; it's unclear if or how the two are related. The confusion might easily be remedied with clearer transitions in the shifts in time and characters.
Difficult timeline aside, this story should appeal to careful readers who enjoy smart
conversations and contemplation of life's bigger questions.
This is a selection of professional or editorial book reviews of The Escalator, linking to the original review.